AIDSVAX® Program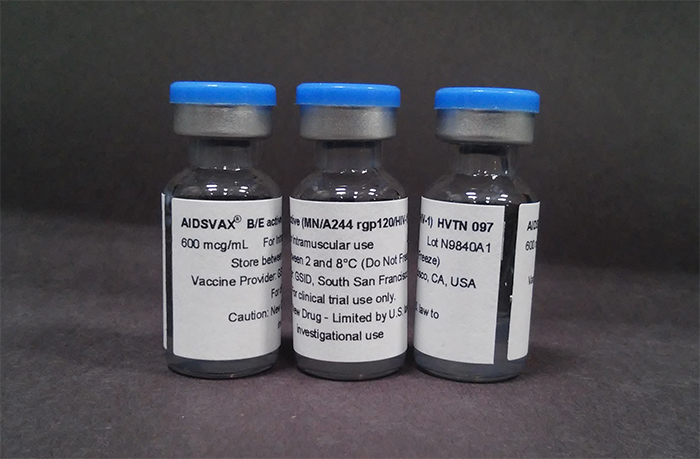 GSID has long supported the development of a safe, effective, and affordable vaccine to control the HIV/AIDS pandemic. For more than two decades, GSID founders have managed the discovery, research, and development of AIDSVAX®, our primary HIV vaccine candidate. AIDSVAX® is a bivalent subunit vaccine composed of recombinantly expressed envelope proteins (gp120) designed to prevent infection from HIV-1.
GSID continues to evaluate AIDSVAX® through ongoing clinical trials around the world. A list of all current and planned clinical trials can be found here.
In addition, we continue to collaborate with leading HIV vaccine researchers, in order to gain a better understanding of HIV vaccines through the analysis of previous clinical studies and to guide future HIV vaccine development. A list of collaborating organizations can be found here, and a list of publications with GSID authors can be found here. If you're interested in collaborating with GSID, please follow the instructions here.
A brief history of our work with AIDSVAX® is provided below.
AIDSVAX® Vaccine Development Across Decades
The Initial VaxGen Trials
RV144: First Signs of HIV Vaccine Efficacy
Correlates of Protection Studies
Informing the Field Beyond RV144
Additional Resources
Year / Period

Event / Activity

1981

HIV determined as the cause of AIDS

Genentech produces a product still in clinical use 30 years later

1984

IIIb gp120 protein cloned

1986 - 1987

Pre-clinical and clinical studies

1992 - 2001

AIDSVAX® drug substance and product manufacturing and filling

1997

License and supply rights granted to VaxGen

VaxGen advances AIDSVAX into phase III clinical development

1998 - 2003

AIDSVAX® VAX001, VAX002, VAX003 and VAX004 clinical trials

2003 - 2008

RV144 prime/boost clinical trial

2005 - 2008

AIDSVAX® materials and IP rights transferred to GSID

GSID collaborates with and continues to inform the field

2006 - 2010

AIDSVAX® specimens, reagents and data repository established

2009

RV144 positive efficacy result announced in Paris

2010 - 2020

Post-RV144 analysis collaborations

2010 - 2023

AIDSVAX® B/E stability program

2010 - 2020

MHRP, HVTN and EV clinical trials

PrEPVacc phase IIb clinical trial
Since publicly advocating for the development of an HIV vaccine in the 1980s, GSID management has been at the forefront of the HIV vaccine field. Using a vaccine initially developed at Genentech, GSID management founded VaxGen, a South San Francisco-based biotechnology company, and proceeded to conduct the world's first Phase III HIV vaccine trials between 1998 and 2003. The first Phase III trial of our AIDSVAX® vaccine (known as VAX004) was conducted in North America and Europe; and the second trial (VAX003) was conducted in Thailand in collaboration with the Thai Ministry of Public Health and the School of Tropical Medicine of Mahidol University. No efficacy for the prevention or modification of HIV was detected in either VAX003 or VAX004 (see VaxGen Trials for more information).
In early 2004, Don Francis, Carter Lee, and Phil Berman left VaxGen and founded GSID to continue the pursuit of an HIV vaccine obtained the rights to all of the clinical data and specimens gathered during the AIDSVAX® clinical trials. The specimen repository currently houses over 300,000 tubes of serological material. We also developed a web-accessible GSID HIV Data Browser containing clinical and viral sequence information related to the HIV infected subjects who participated in the VaxGen Phase III trials.Working with a consortium of academic and private sector investigators, GSID began analyzing the specimens and data from the VaxGen trials under a founding grant from the Bill & Melinda Gates Foundation.
Beginning in 2009, GSID consortium member Dr. Phil Berman and his lab at the University of California, Santa Cruz, identified a novel element in the HIV coat protein that could be useful for future vaccine development. The research was published in the Journal of Virology, with Dr. Faruk Sinangil, the program's principal investigator, as one of the co-authors. Dr. Berman's lab continues to pursue their findings under research grants from the NIH. A list of all collaborating organizations can be found here.
RV144: First Signs of HIV Vaccine Efficacy
In September 2009, GSID was proud to be a partner in the announcement of the results of the world's first Phase III vaccine trial that demonstrated a reduction in HIV infection in a community-based population. Known as RV144, the Thai HIV vaccine trial combined Sanofi Pasteur's ALVAC vCP1521 vaccine with GSID's AIDSVAX® B/E. The combined regimen demonstrated an efficacy of 31.2%. Detailed results from the trial were the highlight of the AIDS Vaccine 2009 Conference in Paris, France and published online in The New England Journal of Medicine. (Links to the paper and a complete list of GSID research publications can be found here).
The results of the RV144 trial were reported on the front pages of newspapers around the world, and they were widely recognized by the global health community as a major event that would re-invigorate the global HIV vaccine community. TIME Magazine declared the results the Number 2 Medical Breakthrough of the Year. As then President of the Global Health Program at the Gates Foundation, Dr. Tachi Yamada captured the global sentiment: "Today marks a critically important milestone in the fight against AIDS....These results offer new hope that it's possible to develop a highly effective vaccine with the power to break the back of the AIDS pandemic."
Correlates of Protection Studies
While the RV144 results were an inspiring moment, they were just a step along the way to developing a safe and effective HIV vaccine. Following the announcements, GSID supported an international team of collaborators to analyze samples from the RV144 trial participants to look at immune response in the vaccine recipients. The results of the coordinated analysis were the highlight of the AIDS Vaccine 2011 Conference in Bangkok, Thailand.
Two key hypotheses were presented. First, antibodies specific to a particular region (V2) of the HIV protein (envelope) correlated with the lowest infection rate among those who were vaccinated. Second, among the vaccine recipients, those with high levels of vaccine-induced plasma IgA had the highest infection rate. These results are unique to the RV144 regimen but give an important lead for vaccine development to build on. (For additional information, see RV144 and Related Trials)
Informing the Field Beyond RV144
GSID supports the HIV vaccine development community by serving as a manufacturing sponsor and product provider.  Post RV144, GSID has collaborated with the field to help provide a better understanding and to improve upon the prime-boost regimen by applying AIDSVAX® B/E in clinical trials.   We have helped evaluate vaccination schedules, other riming vaccine candidates and study populations located in and beyond Thailand.  The clinical trials have generated valuable data which will hopefully lead an effective and deployable HIV vaccine regimen. Examples of these clinical trials and the knowledge gained are briefly described below.  Additional information can be found on our page Clinical Trials.
RV305/RV305A
RV305 was a randomized, double-blind evaluation of late boost strategies for HIV-uninfected participants in the RV144 HIV vaccine efficacy trial The products tested were  Sanofi Pasteur's ALVAC-HIV vCP1521, as a priming vaccine and GSID's AIDSVAX® B/E, as the boosting vaccine.  The study demonstrated that:
Time between last RV144 vaccination and study enrollment ranged 6-8 years.
Vaccines were safe and well tolerated.
Plasma IgG, IgA, and neutralizing antibody responses at week 2 were all significantly higher than two weeks following last RV144 vaccination.
In conclusion, AIDSVAX® B/E with or without ALVAC-HIV 6-8 years after initial vaccination generated higher humoral responses than after RV144, but these responses were short-lived,  and their magnitude did not increase with subsequent boost.
RV306
RV306 was a double-blind, placebo-controlled, randomized clinical trial of the primary RV144 vaccine series with additional dose of AIDSVAX® B/E with or without ALVAC-HIV boosting at months 12, 15, or 18 in healthy volunteers.  This study showed:
Late boosting was safe, and improved antigen-specific plasma IgG responses to HIV-1 envelope and the first and second variable loops (V1V2), an inverse correlate of HIV risk in RV144, without increasing HIV-specific plasma IgA, a direct correlate of risk.
Increasing the interval between priming and boosting improved several humoral and cellular immune responses.
These results suggest that additional boosting of the RV144 regimen with longer intervals between the primary vaccination series and late boost improved immune responses and may improve the efficacy of preventing HIV acquisition.
HVTN097
The primary objectives of HVTN097 were to evaluate the safety and immunogenicity of the RV144 vaccine regimen, ALVAC-HIV vCP1521 and AIDSVAX® B/E, in healthy HIV-1 uninfected adults in South Africa where clade C HIV-1 predominates.  Interestingly, the study generated the following results:
At peak immunogenicity, HVTN097 vaccinees exhibited significantly higher cellular and humoral immune responses than RV144 vaccinees.
The magnitude of antibody cross-clade reactivity to clade C V1V2 and clade B V1V2 and IgG3 response rates recognizing V1V2 were higher in HVTN097.
Cross-clade immune responses associated with protection were better than expected in South Africa, suggesting wider applicability of this regimen.
HVTN096/EV04
HVTN096 was a Phase I double-blind placebo-controlled clinical trial to evaluate the safety and to compare the priming ability of NYVAC alone versus NYVAC plus AIDSVAX® B/E, and DNA-HIV-PT123 alone versus DNA-HIV-PT123 plus AIDSVAX® B/E when followed by NYVAC plus AIDSVAX® B/E boosts in healthy, HIV-1 uninfected adult participants.  The study found:
Co-administration of AIDSVAX® B/E with DNA-HIV-PT123 or NYVAC during priming resulted in earlier induction and higher magnitude of protective V1V2 antibody responses over 18 months.
The effect of co-administration on IgG Env responses to vaccine-matched antigens were similarly strong with DNA priming but not with NYVAC priming.
DNA priming induced more potent T-cell responses than NYVAC priming.
In summary, co-administration of AIDSVAX® B/E gp120 protein components with DNA and/or NYVAC vectors during priming results in early and potent induction of Env V1/V2 IgG binding antibody responses, markers associated with reduced risk of infection in a previous efficacy trial. This immunization approach should be considered for induction of preventative antibodies in future HIV vaccine efficacy trials.
EV06
EV06 was a Phase I double-blind placebo-controlled clinical trial to evaluate the safety and immunogenicity of the combination of IPPOX Foundation's DNA-HIV-PT123 and AIDSVAX® B/E in HIV-1-uninfected adult participants with or without underlying Schistosoma mansoni infection.  It was learned that:
The combination DNA-HIV-PT123 and AIDSVAX® B/E vaccine regimen induced significant binding antibody response among the participants. High response rates were observed against envelope gp120, gp140, and V1V2 antigens.
The combination DNA-HIV-PT123 and AIDSVAX® B/E vaccine regimen induced neutralizing antibody responses against all four tier 1 pseudoviruses (MN.3, SF162.LS, MW965.26, and TH023.6).
Response rates and median response magnitude among responders were generally lower among the vaccinated participants with S. mansoni infection compared to the uninfected vaccinated participants.
In summary, co-administration of DNA-HIV-PT123 and AIDSVAX® B/E induced strong gp120, gp140 and V1V2 binding and neutralizing antibodies. Moreover, these results provide preliminary evidence that S. mansoni infection may modulate antibody responses induced by vaccination.
HVTN105
HVTN105 was a Phase I, multicenter, randomized, double-blind trial to assess the safety and immunogenicity of regimens substituting DNA-HIV-PT123 vaccine for ALVAC-HIV in different sequences or combinations with AIDSVAX® B/E.  The study demonstrated:
Binding antibodies to gp120 and V1V2 scaffold were observed in 95-100% of participants in T3 and T4, two weeks post-final vaccination at high magnitude. While IgG3 responses were highest in T3, a lower IgA/IgG ratio was observed in T4. Binding antibodies persisted at 12 months in 35-100% of participants.
ADCC and tier 1 neutralizing antibody responses had higher response rates for T3 and T4, respectively. CD4+ T- cell responses were detectable in all treatment groups (32-64%) without appreciable CD8+ T-cell responses.
In conclusion, the DNA-HIV-PT123/AIDSVAX® B/E combination regimens induced high magnitude and long-lasting HIV V1V2 binding antibody responses, and early co-administration of the two vaccines led to a more rapid induction of these potentially protective responses.  The results from EV06 and HVTN105 provide the basis to further test the DNA-HIV-PT123/AIDSVAX® B/E regimen in the PrEPVacc study, also known as PV1.
HVTN114
HVTN 114 was a Phase I clinical trial to evaluate the immunogenicity of AIDSVAX® B/E   and GeoVax's MVA/HIV62B vaccine in healthy, HIV-1 uninfected adult participants, who previously received MVA/HIV62B in DNA/MVA or MVA/MVA regimens in HVTN205.  We learned:
CD4 T-cell responses are boosted in most vaccinees with a heterologous boost of AIDSVAX® B/E.
Increased tier-1 neutralizing antibody responses are observed in vaccinees receiving AIDSVAX® B/E boosts
These data indicate that combined gp120, gp140 and gp41 responses can be elicited with a heterologous gp120 boost in participants previously vaccinated with a Clade B gp140 DNA/MVA regimen.
AIDSVAX® Program: Overview