The GSID System
GSID is developing a mobile health system to read, digitize, and transmit point of care (POC) diagnostic results for important infectious diseases. Health care workers around the world will be able to confirm a rapid and accurate diagnosis for their patients, and public health officials will have access to real-time, aggregated results and analysis via a secure, cloud-based database. Our system seeks to facilitate patient care, health-system evaluation, and global disease surveillance and control efforts.
Background
Disease surveillance information is critical to the management of public health anywhere. An understanding of what diseases are happening to which people, where and when is needed to prioritize public health decisions, and then to provide ongoing monitoring and evaluation of any disease control programs that are put into place. Despite the importance of this data, public health officials in low and middle income countries (LMICs) suffer from a lack of accurate and timely data.
Disease surveillance efforts have faced two challenges. First, most patients in LMICs are still diagnosed based on presenting symptoms. The age-old observation and patient questioning algorithms are necessary because caregivers do not have access to modern instruments capable of identifying infectious agents. Most of the diagnostic tests available in wealthier parts of the world rely on high cost equipment and disposables, extensive (and expensive) training of lab professionals, regular access to clean water and electricity, and ongoing maintenance of both devices and skills. An accurate diagnosis is needed to guide patient treatment, as well as properly informing disease surveillance.
Second, public health authorities still rely on paper-based reporting systems, manually aggregating POC data, which gradually progress up the reporting chain. These paper records frequently suffer from data entry errors, transcription errors, gaps in participating locations, and delays in reporting, often taking weeks or months before surveillance data are available, if ever.
Under a grant from the Skoll Global Threats Fund, GSID conducted a landscape analysis of solutions to confront these challenges, and we found two technological revolutions that can help rapidly change the field of global disease surveillance. First, low-cost, easy-to-use, POC diagnostic tests have been developed, diagnosing infections in less than 30 minutes, using a process similar to today's home pregnancy tests. These rapid diagnostic tests (RDTs) have been well evaluated and are being manufactured by many different companies, including tests for HIV, malaria, dengue, syphilis, influenza, tetanus, and hepatitis B. RDTs represent the only diagnostic tests that have met the WHO's ASSURED criteria, with hundreds of millions of RDTs being performed annually around the world. Capturing these results represents an exciting opportunity for public health.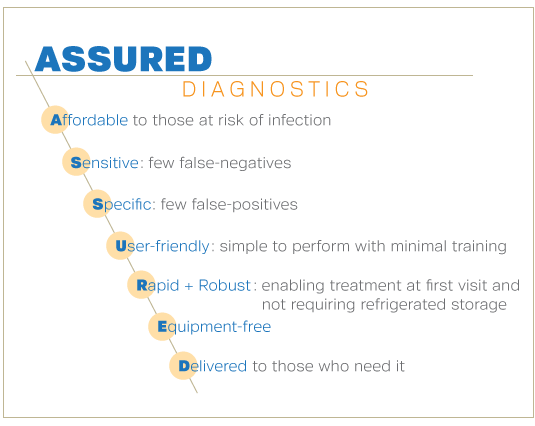 Second, the telecom revolution is changing the way we can communicate information from any place on the planet. While much of the world had limited access to a phone just over a decade ago, wireless cellphone networks have been deployed across almost every country, providing direct text and voice links from most POC health centers around the world. As smartphones have been developed and their costs come down, images of diagnostic results and related data can be used to enhance data reporting for disease surveillance purposes.
Solution: The GSID System
Working with the University of Washington (Seattle, USA) and Dimagi (Boston, USA), GSID developed open-source software for Android-based smartphones to capture the results of many different POC tests and report them immediately via wireless technology. After running the RDT following the manufacturer's directions, the health care worker places the RDT in the stand (Figure 1).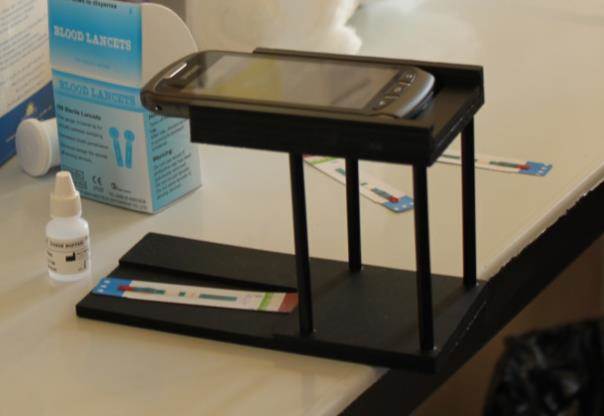 Figure 1: RDT Positioned in Stand
Following step by step instructions on the screen, the application uses the camera on the phone to capture an image of the RDT, and then the application aligns, processes, and confirms the test results for the user (Figure 2).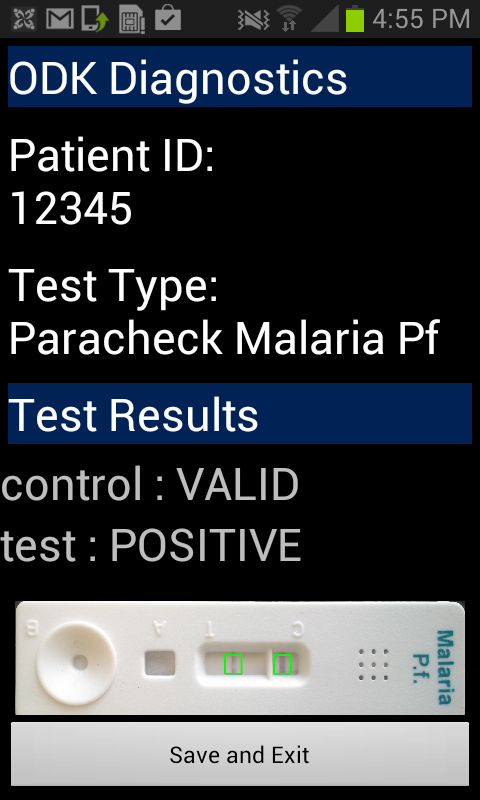 Figure 2: Screenshot of RDT Results - test
The app then transmits the RDT images along with customizable data fields, such as the test used, results, lot number, time, date, location, and demographic data (e.g. age, gender). A central, web-accessible database aggregates the data coming in from all locations, with customized reports for use by public health authorities. All data can be secured and made available on the basis of the national regulations and guidelines.  A successful proof of concept study was completed in Zimbabwe in 2013 (see here for more details).
Next Steps
We continue to work with our partners in Zimbabwe to enhance and evaluate the GSID System, and our next phase plans to involve a larger scale, province-wide evaluation. In addition, we aim to generate interest and support from national and global health organizations for broader implementation efforts.
GSID is also actively seeking to incorporate diagnostic results from the growing roster of diagnostic devices and lab management systems currently available and in development for POC use.  In addition, GSID will work with local health authorities and caregivers to integrate the results into local health systems and electronic health records.
Our Vision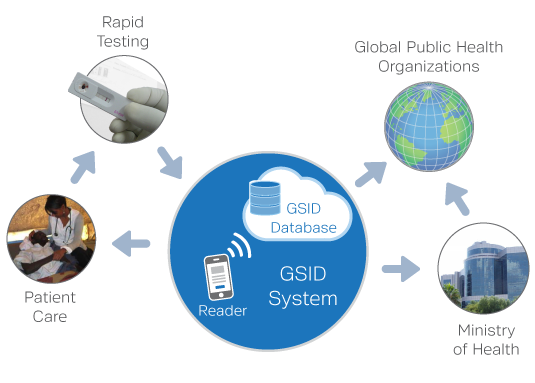 At the point of care, we will provide a standardized interpretation of diagnostic results to guide the appropriate care provided by even minimally trained community health workers working in limited resource settings. We will also reduce healthcare workers' workload by digitizing paperwork, automating data collection, and eliminating key sources of errors.
Beyond the point of care, we believe that the reported data can inform a variety of functions within public health. From a surveillance perspective, we will dramatically shorten the infectious disease reporting cycle compared with paper, allowing public health officials to gather, assess, and respond to real-time disease occurrence for improved disease control. Results can be monitored for spikes in positives to detect outbreaks, and negatives to potentially identify new and emerging threats. Changing burdens of specific diseases can be evaluated to support evidence-based decision making. Accurate supply consumption data will better inform supply-chain managers. The aggregated data can also be used by program funders to enhance transparency and provide better monitoring and evaluation at all levels.
We also aim to provide public health officials with a great deal of flexibility. As opposed to company and test specific readers, our universal approach of reading RDTs from multiple manufacturers will give local health authorities the flexibility to select tests to meet their specific needs and budgets, while allowing the system to expand to include well-evaluated RDTs for any infectious disease as they are successfully developed by any manufacturer. Our software is designed to run on any Android-based phones, allowing us to take advantage of improved performance and lower costs.
If you are interested in learning more about the GSID System, please contact Ian Francis.
Recent Presentations